Banquet and Party Rental
Valley Ridge Golf Course features a spacious clubhouse, custom woodworking, and beautiful views of the course at sunset. The clubhouse seats 75 guests with banquet tables, gift tables, and cake table, making Valley Ridge the perfect venue for you next baby shower, bridal shower, birthday party, or any event you would like to highlight.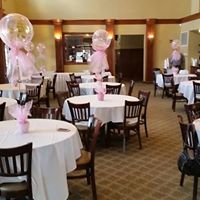 Valley Ridge also offers an expansive carpeted white tent, both heated and air-conditioned, which is available April-November. This indoor-outdoor venue is luxurious with a hanging linen ceiling, chandeliers, portable bar, and is connected to the main clubhouse and convenient to restrooms, as well as covered between the two in case of rain. The tent will seat 200-250 guests comfortably with dance floor, banquet tables, cake table, gift tables, and plenty of room to spare. 
Complimenting both indoor spaces, The Clubhouse and Tent have adjacent outdoor covered patios to let you enjoy a beautiful sunset. A full bar is available for all events and is stocked with premium liquors, beer and wine. Bar Packages are flexible and can be personalized. Valley Ridge uses the best catering services in the area offering reasonable prices on banquet style buffet meals. Customized menu's can also be arranged to suit every type of event or special circumstances including allergies and gluten free options.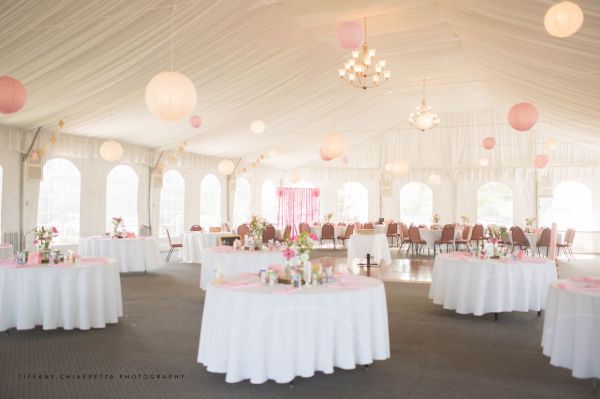 Basic rental– includes the room without linens or chaffing dishes supplied.
Basic Rental                      Clubhouse $250  Tent  $500
Standard rental– includes all linens, chaffing supplies, and plastic and paper tableware.
Standard Rental              Clubhouse $350   Tent $1200
Premium rental– (wedding receptions) includes linens, skirting, chair coverings, premium plasticware, glassware, food servers, and chaffing supplies.
Premium Rental              Clubhouse $800   Tent $1500