Winter Golf Course Status Update:
The golf course will remain open on dry days with no snow or ice present, based on temperatures being over 40 degrees. Please call us first to make sure of conditions, the hours of play are between 10:30-4:30 pm. Carts go back to the vendor for winter servicing, so call and check about cart availability.
Valley Ridge Golf Course
Formerly know as Antioch Golf Club, the course came under new ownership at the end of 2017.  The story since then is one of continuous improvement to the playing conditions, and many of our longstanding members said that as the 2019 season progressed the course was in the best condition it has ever been!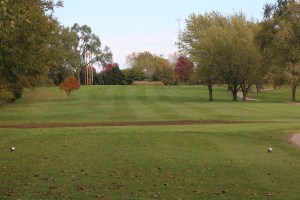 2nd Hole 506 yard Par 5- Picture Fall of 2019
With the 2019 season now nearing a close, the greens are very lush as are the fairways. Our pricing has been aggressive to try and draw people into checking out the changes for themselves. We plan on improving drainage and removing dead trees in the near future.