Spring Update 03/27/20
We will be more than ready to re-open when the Governor grants us permission to do so, pro-shop is fully stocked, projects getting done on the course as we speak. Please stay in touch and we will update this page as soon as we are re-opened. Also check our Facebook Page as we frequently update that as well. Stay safe and stay well!
We will be here answering phone calls and taking memberships, please feel free to call with any questions or concerns 224-788-9172
Valley Ridge Golf Course
Formerly know as Antioch Golf Club, the course came under new ownership at the end of 2017.  The story since then is one of continuous improvement to the playing conditions, and many of our longstanding members said that as the 2019 season progressed the course was in the best condition it has ever been!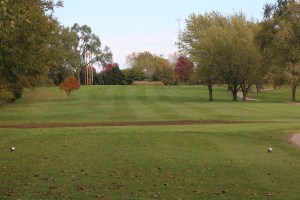 2nd Hole 506 yard Par 5- Picture Fall of 2019
With the 2019 season now nearing a close, the greens are very lush as are the fairways. Our pricing has been aggressive to try and draw people into checking out the changes for themselves. We plan on improving drainage and removing dead trees in the near future.