RE-OPENING MAY 1, 2020
Player Restrictions:
• Any players with any symptoms of COVID-19, should not play
• In addition, any players from a household with someone with symptoms of COVID-19 should
not play
• Golfers must walk and carry own clubs; no caddies.
• Bring your own supply of balls, tees, ball markers, and any other equipment needed to play
golf.
• Insist on social distancing on tees, greens, and throughout the round
• Players shall maintain adequate physical distancing between other twosomes.
• Golfers should pick up their own ball
• Handle your own scorecard
• Bring your own water/sports drink, towel, and snack
• Do not use the public drinking fountain or ball cleaner
• Leave the flag in place while putting
• Sort out the sand in the bunker with a club
• Put on your golf shoes at your vehicle
• Bring hand sanitizer with you and use during your round and at the end
• No handshakes at the beginning of the round or at the 18th hole
The Governors office has allowed us to re-open on May 1st 2020 under fairly strict guidelines. These guidelines include only two players per group, 15 minute spacing, no practice areas or putting greens, no rakes, ball washers, or anything multi touch, so no touching of the flag stick. Clubhouses will be closed and a modified method of sales in place, primarily relying on phone payment at the time of reservation. Please see our Facebook Page, Valley Ridge Golf Course, which details some of the operational details to better understand how we will manage May. Also feel free to call us at 224-788-9172 with any questions or concerns you may have. We look forward to seeing everybody back out and enjoying the game safely. (Those who cannot walk the golf course will be able to rent a single rider motorized cart, these must be reserved in advance by calling the course…)
Valley Ridge Golf Course
Formerly know as Antioch Golf Club, the course came under new ownership at the end of 2017. The story since then is one of continuous improvement to the playing conditions, and many of our longstanding members said that as the 2019 season progressed the course was in the best condition it has ever been!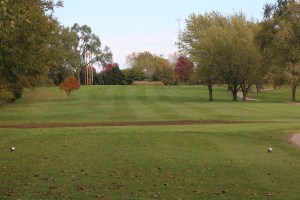 2nd Hole 506 yard Par 5- Picture Fall of 2019
With the 2019 season now nearing a close, the greens are very lush as are the fairways. Our pricing has been aggressive to try and draw people into checking out the changes for themselves. We plan on improving drainage and removing dead trees in the near future.